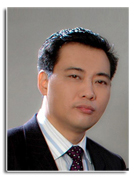 Dr. Ling Zheng, L. AC.


Dr. Ling Zheng, L. AC.
Your Acupuncturist
Ling Zheng graduated from Fujian Medical College (China) in 1983. He completed his internship in the field of acupuncture and internal medicine at a hospital in Fujian from 1983 to 1985, and served as a physician for the same hospital from 1985 to 1987. As a young and striving physician, he was sent to Sierra Leone (West Africa) by the Chinese Government and served for the WHO from 1987 to 1989. While working in Africa, he successfully treated thousands of patients who suffered from acute/chronic pain and skin disorders with acupuncture and herbal medicine.
Upon arriving in the United States in 1990, he passed the national acupuncture board (NCCAOM) exam and was certified by the NCCAOM. He has been licensed by "The University of State of New York Education Department" as an acupuncturist since 1994. He served for the NCCAOM as a professional examiner from 1994 to 1998, and has served as vice-president for the American Acupuncture Association since 1996. He established his own practice, LZ & Manhattan Acupuncture, P.C., in Manhattan mid-town in May 1994.
Specialties
Pain Management: migraine, neck pain, back pain, shoulder pain,
tennis elbow, golf elbow, carpal tunnel, wrist pain, knee pain,
ankle pain, TMJ, sciatica, trigeminal neuralgia, fibromyalgia,
tendonitis, arthritis, and other acute or chronic pain.
Skin Disorders: atopic eczema, nummular eczema, neurodermatitis,




contact dermatitis, and other allergic dermatitis.
This Clinic Offers
Acupuncture

Electro-acupuncture

Auricular-therapy

Acupressure

Cupping

Reflexology

Herbal medicine

Diet suggestion
Other Conditions Commonly Treated by Dr. Zheng
Hot flashes, menopause, PMS, irregular menstruation
Stress, depression, anxiety, insomnia, fatigue
Hey-fever, sinusitis, asthma, bronchitis
Infertility, impotence
Dizziness, vertigo, Meniere's disease
Hypertension, diabetes, obesity
Stroke, paralysis, Bell's palsy
Indigestion, diarrhea, constipation
Quitting smoking, beauty & rejuvenation
SPECIAL SERVICES
We offer free initial consultation
We accept health insurance plans which cover for acupuncture treatment. We may contact your insurance company to verify your acupuncture benefits. If you need us to do so, please tell us your insurance information including your full name, birthday,insurance ID number, and insurance company's Tel. number.